Manufacturer: Bobcat
Model Number: T590
Bobcat already has the best cabs on the market with the largest cab space in the industry, but when we re-engineered our loaders, we went even further. The new cab, with new positioning and design for better visibility, is the best one yet. Bobcat increased the cab space by 10% – with more room for your arms, legs, shoulders, head and feet. It's not just bigger; it's quieter. The sound within the cab is reduced by more than 60% for a more comfortable working environment. This model includes the bob-tach mounting system feature and an enclosed cab with heat.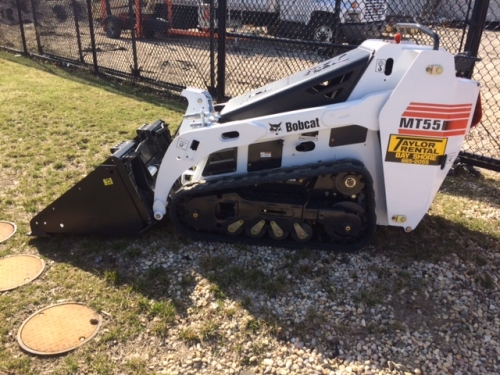 Manufacturer: Bobcat
Model Number: MT55
The MT55 boasts even more power to tackle big jobs in close quarters with impressive traction and lifting abilities. It turns quickly in its tracks, treads lightly over soft ground and lawns and provides endless work-saving opportunities using many different Bobcat attachments. Used by itself or as a complement to bigger loaders, this is one great work-saver.